Keller Auditorium | Portland, Oregon
The Swedish Americana duo, First Aid Kit, will be gracing Portland's Keller Auditorium with their enigmatic presence this May 22 as they bring their "Palomino Tour" to Oregon. Join Klara and Johanna Soderberg in an evening filled with great tunes and ethereal harmonies. Sing along to the new songs from their latest albums, as well as their earlier hits, including "Emmylou," "The Lion's Roar," "My Silver Lining," and "Wolf," among many others. Joined by their special guest Hurray for the Riff Raff, the duo will make you feel a myriad of emotions as they perform their heart-warming songs on stage. Like a Palomino riding off the sunset, you will be swept away by the music of the Indianapolis-based indie folk siblings. Get your tickets now!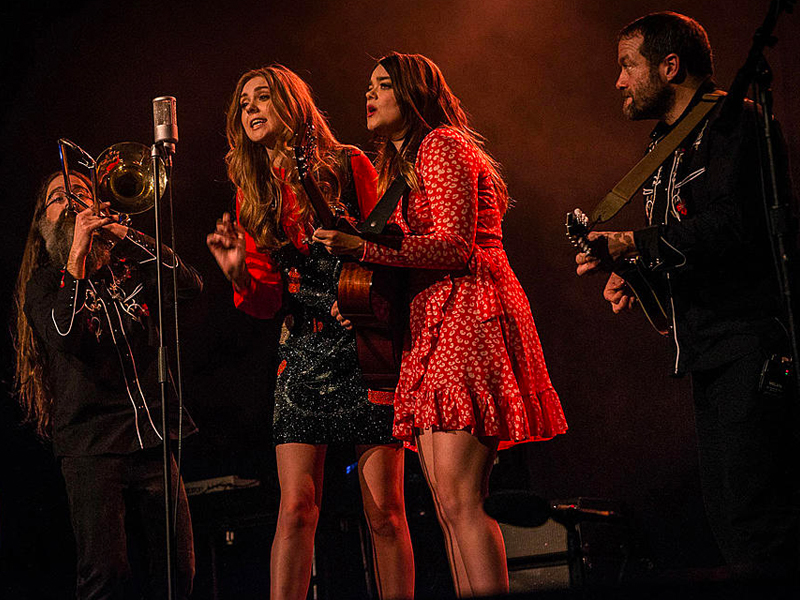 Crafted and written in their home country of Sweden, Palomino is the fifth studio album of the sister duo First Aid Kit. The 11-track album showcases Klara and Johanna Söderberg's growth as individuals, sisters, and a band. The album is a personal project for the internationally-charting siblings who have been in the music business since the late 2000s.
First Aid Kit started to gain attention in 2007 when they started to release their original materials online. This led to them sending demos to some Swedish radio stations. They eventually had some success with their song "Tangerine," which was aired on the radio almost immediately. It ended up being recognized as a top pick for the summer of 2007. When they dropped the "Drunken Trees" EP the following year, it helped them gain a broader fan base. When they covered "Tiger Mountain Peasant Song" by Fleet Foxes that same year, leader Robin Pecknold was so impressed that he put up a video of the girls performing the cover on the band's official website. Because of this, the sisters became an international sensation.
First Aid Kit finally found success commercially with their second album, "The Lion's Roar." It debuted at number one in both the Swedish and British charts. Their third studio release, "Stay Gold," was equally well received. They were nominated for the 2015 Brit Awards thanks to this release. Their fourth studio album, "Ruins," also hit the number one spot on the Swedish charts, charted in different countries, and was certified gold and silver by the Swedish Recording Industry Association and British Phonographic Industry, respectively. Now, the duo is excited to share their fifth studio album, "Palomino," with all their loyal fans. Released early in November 2022, the album will be supported by a US tour.
"Palomino Tour dates in North America are finally announced and we promise you it will be worth the wait! We are beyond excited to bring our new songs and show to you next spring and summer. Bonus points that two of our favorite bands will be joining us on the road, Hurray For The Riff Raff on the West Coast in May and The Weather Station on the East Coast and Midwest in July. What a dream! It's going to be FAKing amazing," the duo expressed.
First Aid Kit will stop at the Keller Auditorium on May 22, 2023. Grab your tickets now to secure the best seats in the venue.