Keller Auditorium | Portland, Oregon
The unique hip-hop duo driven by strings, Black Violin, is on tour! Will B and Kev Marcus are taking their violas and violins to the big stage at Keller Auditorium on Sunday, 26th of March 2023. Recently collaborating with The Blind Boys of Alabama for "We Are One", the duo takes their sound to a new territory featuring blues, gospel, and their signature hip-hop influences into a hymn-like masterpiece. Get ready to be astounded by their talent as they take their strings live on stage by booking your tickets now!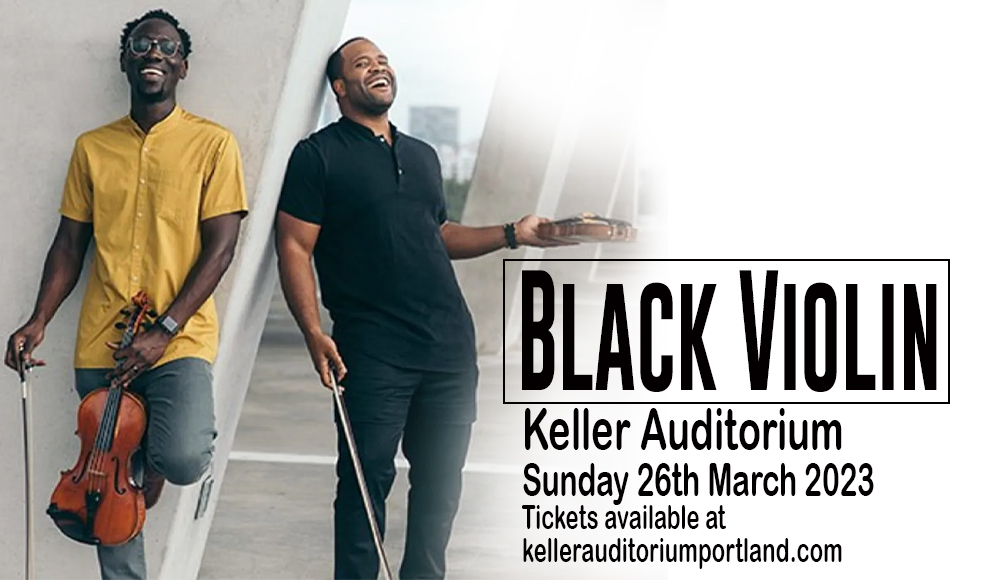 The hip-hop duo hailing from Florida, Black Violin, is comprised of Will B and Kev Marcus who are classically trained for the viola and the violin respectively. For over a decade of playing the strings, they've introduced an unexpected convergence of classical and hip-hop. Covering hip-hop songs on their violins, their performances became an instant hit in local clubs. In 2005, they bagged the Legend title at Showtime at the Apollo.
"After we won the Apollo, which is the hardest audience on the planet, we knew there was something there…," shared Kev Marcus. "The hard thing was to package it so that people would give us a chance, because we were doing something that nobody had ever seen. Every time we step on stage, we had to prove it over and over."
From then on, they've taken over with rising popularity, performing with Alicia Keys at the Billboard Awards, and even performing with big names such as Wu-Tang Clan and Mike Shinoda.
Though at the very start, Will B didn't know the story behind the path that changed the course of his life. In middle school, he expressed an interest to learn an instrument to which the band director and the orchestra conductor took with delight. The two teachers bet on a game of golf, to determine whether the young lad would join the band or the orchestra.
"I didn't find this out until many years later," Will B shared with The Courier Journal. "I ran into my orchestra teacher and he told me the story. I guess I am lucky he brought his A-Game that day."
Will B then met Kev Marcus at a performing arts high school. From then on, they took time to develop classic techniques and listen to hip-hop and blues during their free time.
"One day our instructor gave us an album to listen to by jazz violinist Stuff Smith," Baptiste said. "The name of the album was 'Black Violin.'" he shared.
With an astounding talent and a unique blend of genres on their strings, Black Violin has become one of the world's highly-acclaimed acts. In 2019, their album "Take the Stairs" earned the duo a Grammy nomination for Best Contemporary Instrumental Album.
On their latest collaborations with The Blind Boys of Alabama with "We Are One" and "The Message", Jimmy Carter of The Blind Boys shared that they "enjoyed getting to know the guys in Black Violin and we loved collaborating with them,"
"They are pushing boundaries in their field of music."
With music that aims to connect people of different backgrounds and different hearts, Black Violin's artistry is one that is highly sought after. Don't miss out on Will B's and Kev Marcus' strings astounding the crowd live on stage at Keller Auditorium on March 26, 2023, by booking your tickets now!