Keller Auditorium | Portland, OR
Portland Opera present Carmen, at the Keller Auditorium on Saturday, November 5th 2022. The story is set in a small town in southern Spain and tells the of the downfall of Don José, a naïve soldier who is seduced by the wiles of the fiery gypsy, Carmen. While Jose is coming to terms of his predicament, enter a confident, dashing and brave, Toreador, Escamillo, who confesses his undying love for Carmen. José sadly abandons his childhood sweetheart and intended betrothal, he deserts from his military duties, and ultimately loses Carmen's love to the glamorous Escamillo. There is a confrontation in which José kills her in a jealous rage.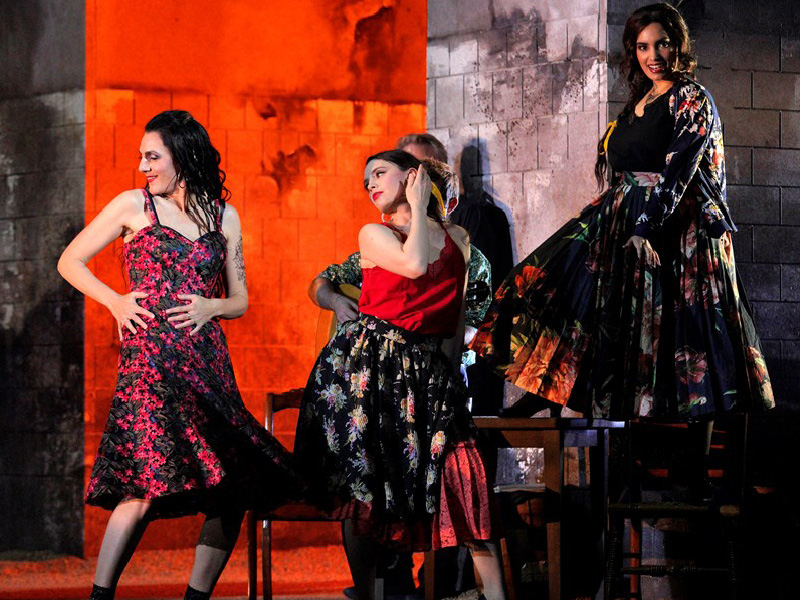 In a town in southern Spain, a group of soldiers relax in the square, waiting for the changing of the guard. A young maiden, Micaëla, José's betrothal, appears, seeking José. Carmen is a factory girl. When the factory bell rings, the cigarette girls emerge and exchange banter with young men in the crowd. Soon after they have returned to work, the officer of the guard, learns that Carmen has attacked a woman with a knife. He orders José to tie her hands while he prepares the prison warrant. Carmen beguiles him and José allows her to flee. José is arrested for dereliction of duty. At the café, Carmen learn of José's release from two months' detention. José arrives at the café but is called back to barracks. José is torn when Carmen demand he show his love by leaving with her. The officer of the guard enters the café looking for Carmen. He and José fight. Having opposed an officer, José now has no choice but to join Carmen and her band of thieves and smugglers. After a while, Carmen has now become bored with José and tells him scornfully that he should go back to his mother. Also in the café is a dashing and brave Toreador, Escamillo, who declares his infatuation with Carmen. As Escamillo leaves the café, he invites everyone to his next bullfight in Seville. At the Café, José will not leave Carmen, but he agrees to go when told that his mother is dying. At the arena in Seville, Escamillo declares his undying love for Carmen, and in a rage, José stabs her. Carmen dies and José confesses to killing Carmen.