Keller Auditorium | Portland, OR
It's time to get cheesy with our favorite captives as Mystery Science Theater 3000 comes to Keller Auditorium on Friday 17th January 2020! The Peabody Award-winning Netflix comedy is on the road, and its bringing with it the show's original creator Joel for his farewell run, as well as Jonah, Tom Servo, Crow, and Gypsy! This time, the gang will be riffing on No Retreat, No Surrender (1986) and Circus of Horrors (1960) and you get to enjoy the action live!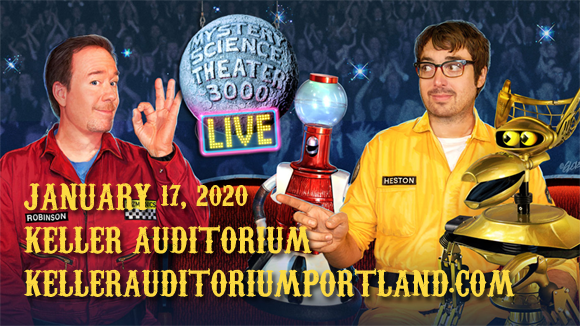 Created by Joel Hodgson in 1988 and revived in 2017, Mystery Science Theater 3000 is a fun and zany look at some truly questionable movies through the eyes of one hostage and his three robots. Join Jonah, Tom Servo, Crow, and Gypsy as they endure and comment on a variety of so-band-they're-good films at the behest of two wicked mad scientists!
"MST3K contains some of the HIPPEST, deepest SATIRE of the generation."
—Los Angeles Times
"The greatest talk-back show EVER made."
—Wired Magazine
"[Mystery Science Theater 3000 LIVE is] a welcome respite to ESCAPE reality for a few WONDERFUL hours and instead live in the twisted galactic world of Hodgson's mind."
—Paste Magazine
"30 years later, that INGENIOUS B-movie spoof is still GOING STRONG."
—The New York Times