Keller Auditorium | Portland, OR
Bridging the gap between hip hop and classical music, renowned Florida crossover duo Black Violin comes to Keller Auditorium on Wednesday 6th May 2020! The innovative, talented and passionate performers have carved out a niche in the industry all their own – a niche that has seen them working with a huge range of high profile artists and has seen them tour the world, performing in Prague, Dubai, South Africa and beyond! This show sees the pair performing from their hot new album, Take the Stairs!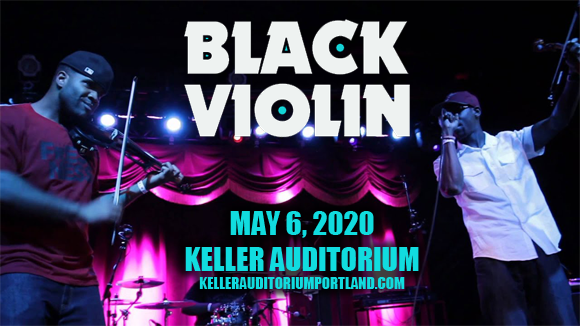 American hip hop duo Black Violin is comprised of classically trained string instrumentalists Kevin Sylvester (violin) and Wilner Baptiste (viola), aka Kev Marcus and Wil B. The two friends met in orchestra class at Dillard High School of the Performing Arts in 1996 and, after going their separate ways for college, reconvened in 2004, when they started performing in local clubs with an act covering hip-hop songs on their violins. The act became more and more popular, and the duo was invited to appear on Showtime at the Apollo, winning the contest. They have since performed with Alicia Keys at the Billboard Awards, toured with Mike Shinoda of Linkin Park, opened for the Wu-Tang Clan, and composed the music for the groundbreaking Fox series Pitch. Their latest album, Take the Stairs, was released in November 2019.